Nagpur is a city in the central part of India. It is practically at geographical center of India, in fact the zero milestone of
India is in this city.
Bohra Masjid
Bohra Masjid is an architecturally constructed beautiful mosque in Shantinagar, Itwari in Nagpur. Bohra Masjid is the mosque for the Dawoodi Bohra community in Nagpur. This mosque attracts many Islam believers from India and abroad. This mosque witnesses huge crowd for the prayers on Fridays.
Musical Garden
The musical garden is located at Surya Nagar, Nagpur. The theme of the garden is Music in and out. The sprawling garden has pleasant ambience and is having a landscaped lawn. It has many attractive musical fountains, with themes of nodes of music, ragas and raganis conducted by musician. There is an open air theater which can accommodate about 2500 people and the theater is intended for musical concerts. It is a center of attraction for the Nagpur populace.
Japanese Rose Garden
Refreshing Greenery is the keyword for Japanese Rose Garden in Nagpur. It is located at civil lines in Nagpur and is the best place in Nagpur for morning walks and bird watching. The colorfully painted iron structures in the garden bring the style of the Japanese gardens and hence the name Japanese Rose Garden.
Nawegaon Dam
Nawegaon Dam is termed as Vidarbha's most famous popular forest resort. The resort provides for a hoard of adventure sports to those who expect a thrilling experience to come their way from the place they visit. The dam was built by Kolu Patel Kohli at the start of the 18th century. A picturesque lake adorns the hub of the hill ranges. Watch towers have also been provided to catch the wildlife in action. There exists a deer park nearby called Dr. Salim Ali Bird Sanctuary, along with three fascinating gardens and children's park.
Dhapewada
Dhapewada, lies peacefully on the banks of the Chandrabhaga river, and plays dwelling to a small temple of Vithoba. The temple was the brainchild of Umaji Aba, Diwan to Raja Baji Rao Bhonsle. This place is affectionately termed as the Pandharpur of Vidarbha. Khindsey Lake is a gorgeous water body set amidst the green stretch, placed beneath the Ramtek hill. It forms an ideal picnic spot. Eight kms from Ramtek and 60 kms from Nagpur, this lake has a variety of water sports to offer. Fascinating greens and crystal clear waters are set in the backdrop. Regular bus services are available Khindsey lake to Nagpur / Ramtek and vice-versa.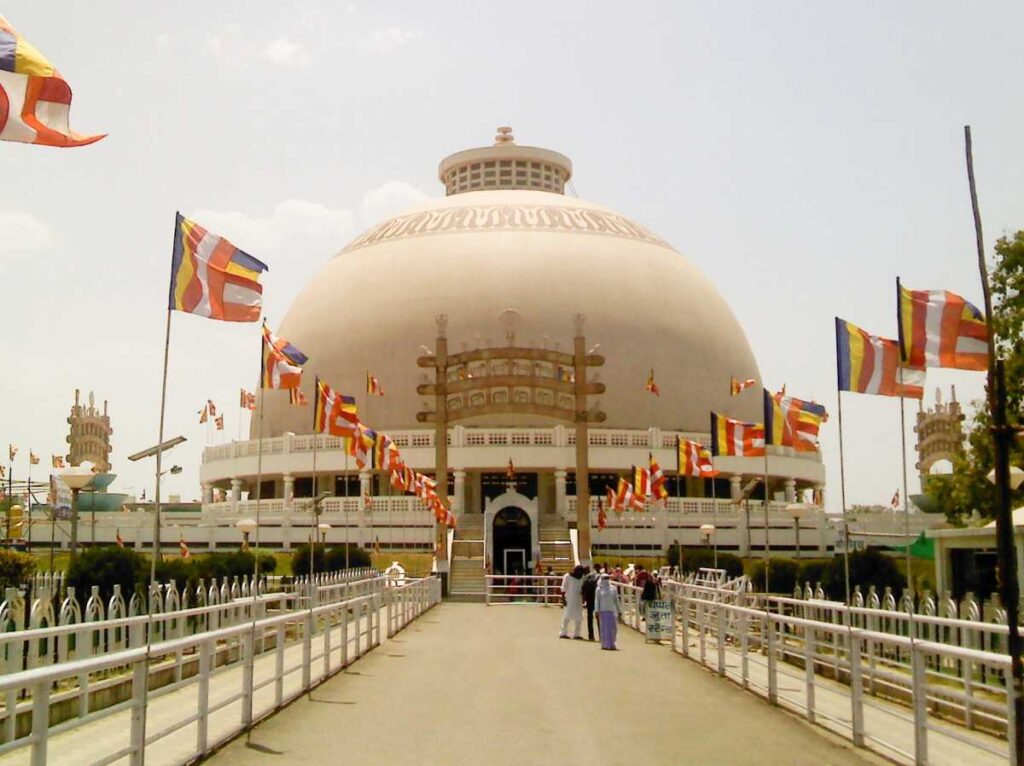 Dhamma Chakra Stupa
Dhamma Chakra Stupa, also known as Diksha Bhumi, is an important religious Buddhist monument located at Nagpur. It is at this place in 1956 Dr B R Ambedkar initiated the conversion of thousands of Dalit people to Buddhism. This day is celebrated as Ashok Vijaya Dashmi and on this day thousands of followers of Dr Ambedkar and Buddism join this place to offer floral tributes. The stupa is worth seeing due to its architectural beauty. It can accommodate more than 5,000 people. The stupa is made out of Dhaulpur sandstones, marbles and granites. The attractive dome has a height of 120 feet.